Saturday 31st August & Sunday 1st September
Exo Terra Aztecs Event
We will be hosting an Exo Terra Aztecs Event.
Come and see the New Exo Terra Aztec range of reptile products, inspired by the astonishing art and impressive relics that were left behind by pre-Columbian cultures.
The Exo Terra Aztec range includes two sizes of vivarium's each complete with a unique mystical Aztec themed background. Revive and admire the magnificence of this lost civilisation with the stunning Exo Terra Aztec ornament range which includes a Aztec Warrior Eagle Knight hide out, Sacred Maize Waterfall and an Aztec Frog Water Bowl, perfect to complete your very own Aztec themed vivarium.
What's more we will be giving you the chance to WIN your very own Exo Terra Aztec Terrarium at the event and it's FREE to enter. (T&C's apply, see in store for more details.)
Between 12.00pm – 3.00pm you can get up close and personal with creepy crawlies and scaly reptiles at the Exo Terra Aztec Event at Porton Garden Aquatics & Pets.
Meet our exotic reptiles – lizards, snakes, turtles and maybe even a crocodile at our Aztec themed event, sponsored by Exo Terra!
Our reptile experts will be on hand throughout the day with amazing facts and expert advice about our scaly friends…did you know for example that snakes don't have eyelids and that lizards smell with their tongues?
Bring the children and let them learn all about our fascinating reptiles.
There will be plenty of photo opportunities on the day – ever wanted to get that must have shot with a snake around your neck or holding a lizard? Well you don't have to travel all the way to Australia for that, you can get it right here at Porton Garden Aquatic & Pets.
Don't miss out on this fantastic opportunity and open your children's eyes to our wonderful and exciting reptile species. It will certainly make a change from a visit to the local park and better still it's FREE to attend!
Meet the Reptiles on Saturday & Sunday, 12pm – 3pm.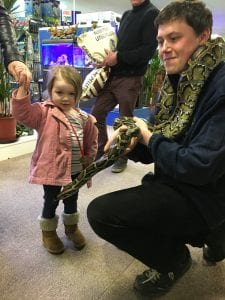 Enter the free prize draw to WIN a Exo Terra Aztecs Terrarium
Enter into our free prize draw to WIN one of the new Exo Terra Aztecs Terrariums by simply filling in an entry form at the event.
Terms & Conditions apply, see in store for more details.